(VEG) (RSF)
BBC Food & Farming Awards Finalist, Mini Miss Bread, founded by Megan Charnock are renowned for their wholesome artisan sourdough recipes, always baked to golden perfection. The sourdough experts also offer a selection of weekly sweet bakes, and this is where we were graced with their very own Burnt Basque Cheesecake. First made with brown sugar, and quickly switched to BONRAW's Organic Panela to take the flavour to the next level. Mini Miss Bread now proudly switches to 100% Organic Panela for all their brown sugar bakes. This artisan bakery uses only quality ingredients in their makes and are proud stockists and users of our 100% Organic Panela.
The Basque Cheesecake, born in San Sebastian and now set to conquer the UK. This masterful Spanish dessert meets its match with Panela from Colombia. 6 simple ingredients are used to deliver this dinner party show-stopper bake. So, go on and serve yourself up a slice of this Panela Burnt Basque Cheesecake, and prepare to be blown away!
Servings: 8
Prep Time: 30 mins
Cook Time: 30-35mins + overnight cooling
Ingredients:
-900 g Cream Cheese
-360 g Organic Panela
-6 Eggs
-3 tsp salt
-500 g double cream
-50 g white flour
Method:
Pre-heat your oven to 240˚
Double line a 25cm round cake tin with an extra couple of inches overlap at the top as the basque will rise up beyond the lip of the cake tin.
Using the whisk attachment on your kitchen mixer, mix 900g of cream cheese to soften it. Pour 360g of Organic Panela into the cream cheese, making sure to break down any chunks of sugar before mixing it in.
Add 6 eggs one at a time, making sure they're well mixed in before adding the next egg.
Add 500g of double cream and gently mix in.
In a separate bowl make a liaison batter. Weigh out 50g of flour and 3 tsp of salt and then add a few spoonfuls of your cheesecake mix to the dry ingredients at a time, mixing the two together well to create a smooth roux-type texture. Once you have a smooth texture add this batter into the main cheesecake mix and combine well.
Carefully pour into a 25cm round, double lined cake tin. It'll fill the tin right up to the top so be careful. Carefully tap the tin 4-5 times to get any air bubbles out and then cook for 35 mins in the centre of your oven. Don't panic if it 'burns' on top. The high baking temperature will make this happen whilst making sure the middle doesn't overcook and scramble.
Remove from the oven. It'll still be very wobbly and will seem underbaked but resist the temptation to return it to the oven as there will be carry-over cooking. It'll firm up whilst it cools. Leave to cool for a good 4-6 hours, or overnight, prior to serving.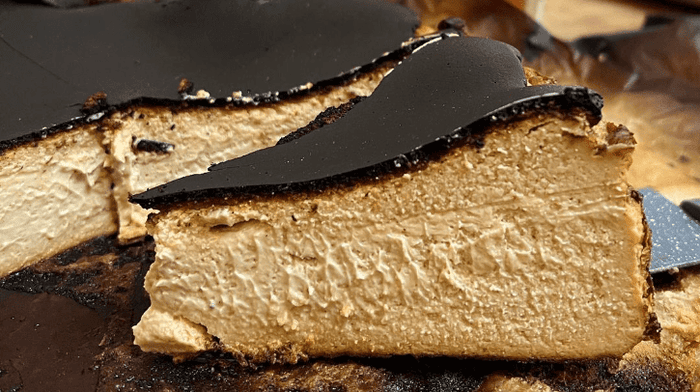 Tips:
It goes beautifully with a fruit coulis or follow Nigella's lead and serve with a liquorice sauce!
You could make a strawberry compote for your cheesecake by combining 250g of strawberries with the juice of half a lemon, and 3 tbsp of Silver Birch Icing over medium heat until you've reached your ideal thickness.
If this recipe has left you drooling, then don't hold back, get baking, and then tag us on Instagram @bonrawfoods.
Featuring BONRAW Organic Panela & Silver Birch Icing