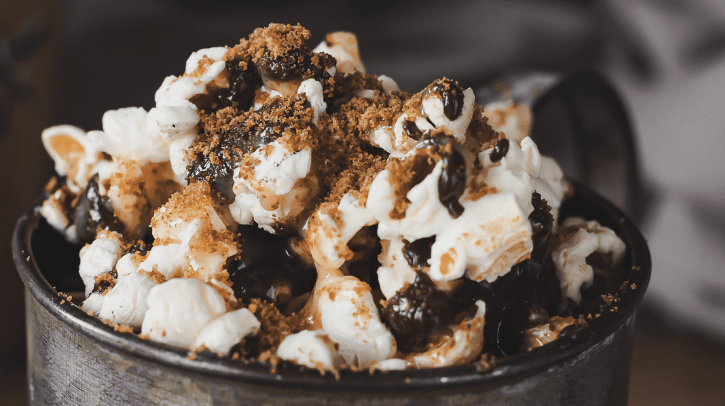 (GF) (VEG)
Servings: 1
Time: 10 mins + cooling time
We've taken the humble popcorn one step further by adding a drizzle of melted white chocolate, dark chocolate, and a dusting of Organic Coconut Blossom Sugar for the ultimate treat! A real delight for kids and adults alike.
Ingredients:
1 bar of dark chocolate
1 bar of white chocolate
1 bag of popcorn
1 tbsp unsalted butter
Pot of Single cream
1 tsp of BONRAW Organic Coconut Blossom Sugar
Method:
1. First prepare the fresh popcorns, by melting a tbsp of unsalted butter in a saucepan and wait for the pop! 2. Melt the chocolate with the cream in two different saucepans, stirring often and waiting for the chocolate to completely dissolve. 3. Add 1 tsp of BONRAW Organic Coconut Blossom Sugar to the chocolate sauce and stir. 4. Place the popcorn into a large tray, pour over the warm chocolate sauces, and then wait for the chocolate to cool. Place the tray in the freezer for 10 minutes only! 5. To serve, add some sprinkles of Coconut Blossom Sugar and enjoy!
If this recipe has left you drooling, then don't hold back, get baking, and then tag us on Instagram @bonrawfoods. Share the Good-Sweet love.
Featuring BONRAW Organic Coconut Blossom Sugar.