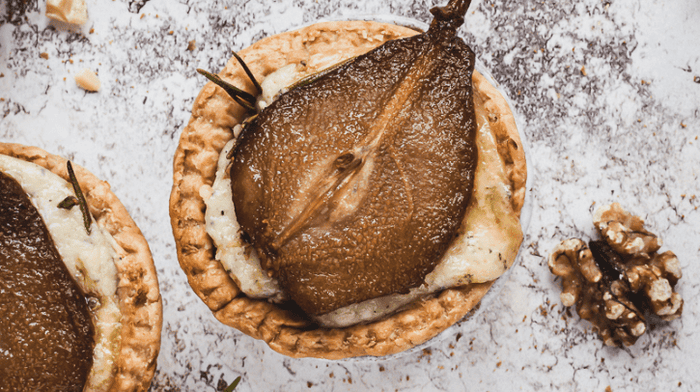 RSF) (VEG)
Servings: 6
Prep Time: 40 mins
Cooking time 40 mins
This is a palette EXPERIENCE. Sweet and salty complimentary flavours. Delicate and buttery pastry that creates a wonderful contrasting texture to the smooth blue cream cheese. The cherry-on-top is a crisp pear, caramelised by our Organic Panela.
Ingredients:
320g puff pastry ready to roll sheet
1 egg, lightly beaten
50g butter
55g BONRAW Organic Panela
3 pears, halved
500ml semi-skimmed milk
85g instant polenta
60g creamy blue cheese
 Method:
Preheat the oven to 220˚ To make the tart shells, unroll your pastry on a lightly floured surface and ensure that it is rolled out to 2mm thickness. Cut the pastry into 6, and then line the tart pans (make sure to trim the edges for a clean finish), and then prick the pastry with a fork.
Place the tart pans on an oven tray, and then freeze for 15 minutes to allow them to firm up.
After 15 minutes, use your lightly beaten egg and brush the yolk over the tart shells. Line the tart shells with baking paper, and then fill them with dried beans or rice (this is to help the shells maintain their shape). Bake the pastry for 15 minutes, remove the beans/rice, and then bake in the oven for a further 5 minutes or until the pastry is crisp and golden. Leave to cool on a wire rack.
To begin caramelising the pears, heat a large ovenproof pan over high heat. Add 50g of butter and cook, continually swirl the pan for 30 seconds until a foam forms. Scatter 55g of Organic Panela evenly over the pan, then place your halved pears cut side down and cook for 3 minutes or until the sugar melts.
Transfer your pan to the oven and bake for 8 minutes or until the pears are caramelised. Turn them over and then set aside in pan.
To make your cheese polenta mix, heat 500ml milk in a saucepan over medium-high heat. Bring to a boil, then reduce to a simmer. Whisk continuously and gradually add 85g of instant polenta, continue to whisk and cook for a further 5 minutes until cooked and thick.
Take off heat and add in 60g creamy blue cheese, season to your liking. Spoon a generous serving of the cheese polenta onto your tarts, and then top with a caramelised pear.
If this recipe has left you drooling, then don't hold back, get baking, and then tag us on Instagram @bonrawfoods.
Featuring Bonraw Organic Panela Sugar