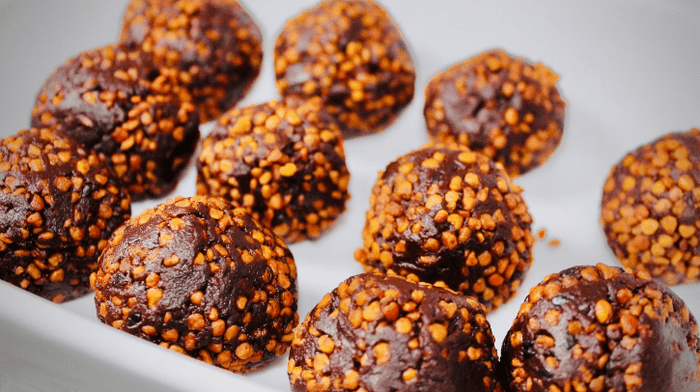 RSF) (DF) (GF) (VEG)
Recipe by Tim Wiggins from Life in The Saddle.
These yummy energy balls are packed full of natural energy, protein and nutrients. They are perfect for snacking on during the day or for taking on adventures (though be sure to store them in a crush proof container).
With protein from tahini and peanut butter, sweetness from honey and cocoa, and texture from the avocado and bee pollen, these tick all the boxes. Enjoy!
Servings: 12
Prep time: 10 mins
Chilling time: 2 hours in total
 Ingredients:
100g tahini
110g runny honey
50g cocoa powder
25g crunchy peanut butter
25g coconut oil
1/2 ripe medium avocado
1 tbsp sesame seeds
 Method:
Combine all the ingredients except the sesame seeds and Mountain Bee Pollen in a food processor and whizz until a smooth paste is formed.
Transfer to a medium-sized bowl and add the sesame seeds – stirring the mixture
Place the bowl in the fridge for at least an hour for the mixture to set a little.
Once set, take small amounts of the mixture from the bowl and roll it between your hands to make balls.
In a separate bowl, add the Mountain Bee Pollen and a little extra cocoa powder and roll the balls in this to coat them.
Place the coated balls (it should be about 12) onto a baking tray and place them back in the fridge for another hour to firm up.
Enjoy your snacking.
If this recipe has left you drooling, then don't hold back, get baking, and then tag us on Instagram @bonrawfoods. Share the Good-Sweet love.
Featuring BONRAW Organic Mountain Bee Pollen
Want to learn more about endurance cyclist Tim Wiggins? Read our interview with Tim here.