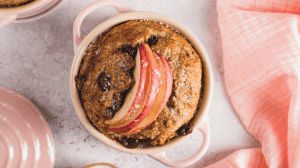 (V) (SF) (DF) (GF) (VEG)
Servings: 6
Prep Time: 5 mins
Cooking time 22-25 mins
Serves 1
If you're sick and tired of the same old breakfast, you are going to love these baked oats. Packed with fibre and made with staple pantry ingredients. It's a healthy breakfast idea that tastes incredibly decadent and makes you feel like you're eating cake. This is our vegan and sugar free version.
Ingredients:
1/2 cup rolled oats or quick oats
1/4 cup unsweetened almond milk or milk of your choice
1/2 cup mashed very ripe banana
1/4 tsp baking powder
Pinch of salt
Pinch of ground cinnamon
1/2 tsp pure vanilla extract
1 Tbsp Silver Birch Granulated or Caster Natural Sweetener
Small handful of raisins and or sugar free chocolate chips
Half a small apple, sliced
Non-stick cooking spray.
Method:
Preheat oven to 350˚C/ 180 celsius. Spray a 8 oz. oven-safe ramekin or dish with non-stick cooking spray.
Combine all of the ingredients in the food processor or blender (except for the sugar-free chocolate chips and/or raisins)
Blend for 30 seconds until smooth.
Pour into the prepared 8 oz. oven safe oven-safe ramekin or dish.  Top with the sugar free chocolate chips and or raisins.
Insert into the oven and bake for 22-25 minutes. At around half time (11-12 mins), open the oven and insert your thinly sliced apple into the mixture. It should be firm enough to sit on the top and sink slightly into the mixture.
Bake for a further 11-13 mins or until a toothpick inserted close to the centre comes out clean.
Once removed from the oven, sprinkle over some more Silver Birch Natural Sweetener for a delicate sweet crunch.
If this recipe has left you drooling, then don't hold back, get baking, and then tag us on Instagram @bonrawfoods.
Featuring Silver Birch Caster& Granulated