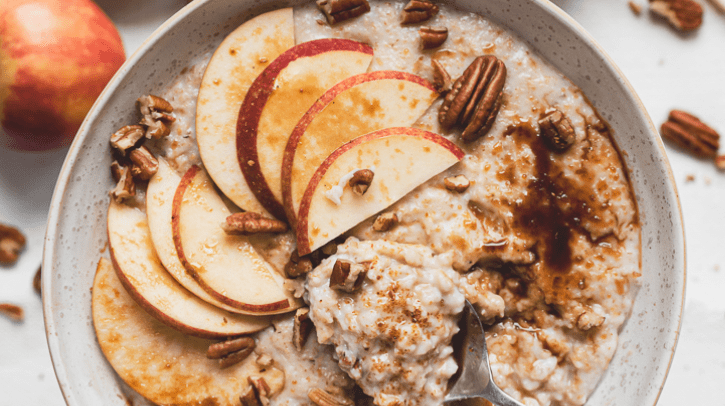 (V) (RSF) (DF) (GF) (VEG)
Serves: 2
Time: 15 mins
Delve into this bowl of warm golden porridge infused with nature's finest flavours. A nutritious bowl of fruits, nuts, oats, the perfect match for Organic Coconut Blossom Sugar's toffee taste.
Ingredients for porridge:
-160 g rolled oats
-600 ml soya milk (or a plant-based milk of your choice)
 Ingredients for apple, pecan & coconut topping:
-30 g unsalted pecans
-1 apple
-2 tbsp BONRAW Organic Coconut Blossom Sugar
Method:
For the porridge, place the oats and the milk in a large pan over medium heat, and add a tiny pinch of salt.
Simmer for 5-6 minutes, stirring constantly and adding in more milk if the porridge needs loosening so you can reach a smooth creamy consistency.
While it is simmering you can prepare your apple, pecan & coconut topping. Snap the pecan into smaller pieces, then toast in a non-stick frying pan over medium heat until golden. (Approx 3-4 minutes).
Remove the apple stalk and coarsely grate your apple onto the chopping board. (Core and all).
Stir the grated apple, and 2 tbsp of Organic Coconut Blossom Sugar syrup through your porridge before dividing it into bowls.
Scatter your toasted pecans on top along with any leftover grated apple and a dusting of Organic Coconut Blossom Sugar. And enjoy!
If this recipe has left you drooling, then don't hold back, get baking, and then tag us on Instagram @bonrawfoods. Share the Good-Sweet love.
Featuring BONRAW Organic Coconut Blossom Sugar.